Episodes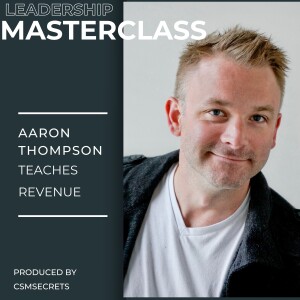 Thursday Apr 20, 2023
Thursday Apr 20, 2023
Now, this is one of my very favorite topics.
In today's discussion on Conversations with the C-suite, we have Aaron Thompson who is passionate about customer success and turning customer success into a revenue office.  Aaron introduced the concept of "Revenue acquisition cost", which is the cost you incur in acquiring newer revenues through upsells and cross-sells once a customer is onboard. This directly translates into something a Customer Success office should own.
Key takeaways from this episode are:
1) The primary responsibilities of the revenue office is to focus on bringing in new revenue and in sustaining the same.
2) Profitability is the scope of a CFO and new customer acquisition is the role of the Sales/Marketing
3) Providing accurate revenue forecasts, designing strategies around bringing in new revenue, creating value added solutions are key for the success of revenue operations (RevOps)
4) The success of the revenue office is reflected in revenue numbers; and the overlap with CS is in how well CS enables revenue office to meet their numbers
5) RAC - Revenue acquisition cost is under values. While Customer Acquisition costs are usually very high, RAC could prove to be a great opportunity to build momentum in revenue without such high costs during initial acquisition.
6) And the focus is more on upsells & cross-sells and not usually on renewals, which is a given and almost requires no additional costs.
7) Customer Success managers could be account managers or Not. However, revenue responsibilities are primarily with account managers and they should continue to have the leverage in all accounts to own it end-end.
8) For anyone that aspires to be in the CRO office - a good track record of having walked the customer's pain points and designing new strategies in problem solving will go a long way in ensuring a success in their careers.
 This and many takeaways from this insightful Episode!